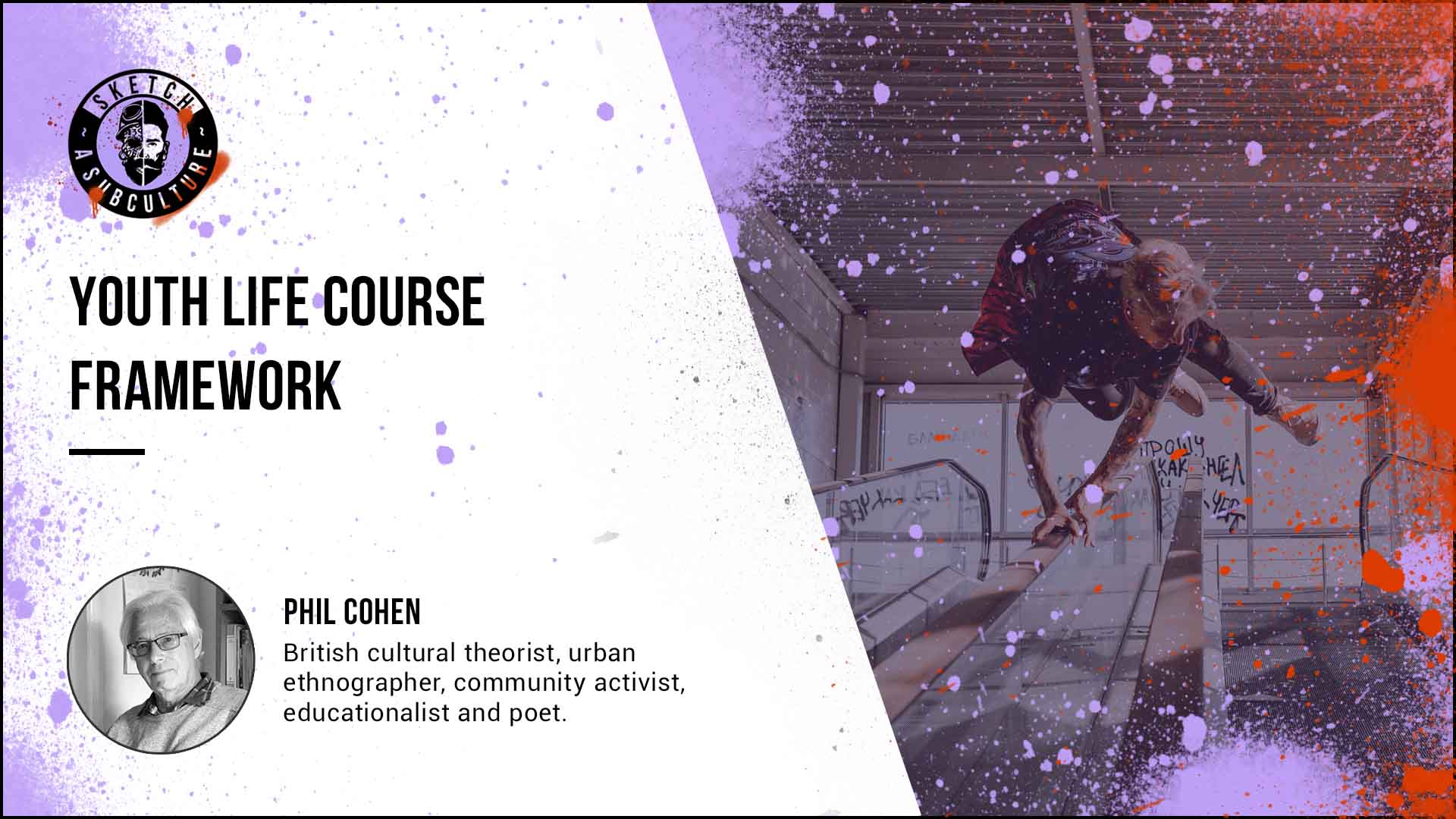 Phil Cohen – British cultural theorist, urban ethnographer, community activist, educationalist and poet.
In my research I have identified four connective frameworks: vocation career, inheritance and apprenticeship. Their origin and development can be correlated with specific historical conjunctures. For example the rise to prominence of the 'public man' and the professional middle classes in late Victorian society was linked to the establishment of 'career' as a dominant paradigm, while vocation was marginalized and increasingly confined to certain  feminine, intellectual or artistic pursuits. The history of these codes is thus bound up with concrete social developments, but it is not reducible to them. The grammars of apprenticeship and inheritance, have taken on a life of their own quite apart from their origins in the   indentured labour form, or the transmission of material assets and wealth.
The grid of inheritance originally evolved within a moral economy governed by patriarchal authority. The life cycle is unfolded as a more or less congenital link between fixed origins and destinies. You can only become what you always and already are, by virtue of the special patrimony which has been entailed in your life, from the moment of conception onwards. This closed reproduction of fixed positions may become racialised, or alternatively serve to shore up the boundaries of ethnic identities under attack. But in order to accomplish this latter task the code has to be effectively transmitted to the up and coming generation. In other words it has to be articulated to particular cultural forms of apprenticeship in which life is unfolded as so many stages in the mastery of a patrimony of skill.
Today growing up working class no longer means being apprenticed at an early age to an inheritance of trade or domestic skill passed on from parents or elders in the workplace and community. What now counts is how the dispositions of intellectual, cultural and social capital are entailed in practices of learning, both physical and mental, mediated through the apparatus of extended scholarisation. For those who have to grow up working class without work, and without a language of class to articulate their experience, the code of inheritance can provide a sense of life historical continuity and identity. At the same time, on the other side of the class tracks, its material basis in the transfer of assets not only continues to over-determine life chances, but achieves even higher salience with the financialisation of the property market. Waiting for long living parents to die so the children can inherit their property, and hence be able to afford to buy a place of their own before they retire, has re-animated the whole psycho-drama of dis/inheritance which was such a staple plot ingredient for Victorian novelists in a more Patriarchal age, albeit   now recast in a more narcissistic pre or post oedipal idiom associated with the rhetoric's of 'generation rent'.
Apprenticeship, although it scarcely exists in its traditional indentured form, except in a few highly specialised crafts, has also had a vigorous afterlife. Uncoupled from inheritance, it offers a generic model of peer-to-peer transmission within informal communities of practice both inside and outside the workplace.  In the contemporary  service economy  we find a whole array of coaches, trainers  and  mentors, who have mastered  not only specialised work  skills  linked to the just- in-time production of  peak performance but the values and attitudes of mind and body that go with them. The apprenticeships they offer to their various mimetic disciplines involve forms of living labour which have been abstracted from specific workplace cultures and communities and rendered transferable, often being formally subsumed or translated into the middle class idioms of vocation or career. You can trace this happening in the contemporary formation of young artists and athletes from working class background, not least in the aspirational memoirs they write about their struggles to succeed.
The codes of vocation and career have undergone a similar convoluted process of transformation. Under the imprimaturs of the original vocation code the self is the bearer of a calling which may be moral, spiritual or social in type, but whose existential imperatives direct the young person to cultivate particular gifts, often of an artistic kind, and attune development to a variety of aesthetic pursuits. In this model the adolescent search for identity becomes paradigmatic of the whole life cycle is privileged in various humanistic and existential psychologies and today it has been re-calibrated to give a glamorous halo to the precarious conditions of the free lancer and portfolio worker.  In contrast the grid of career offers a much more utilitarian, though no less individualistic reading of the life cycle. Here life is unfolded as so many steps up a ladder of progress, marked at each stage by increments of skill or status, or some other measurable index of personal achievement. The young person is pitted competitively against themselves and is made the subject of more or less ruthless monitoring and evaluation.  At the limit the contingencies of a life history are reduced to the predictabilities of a business plan, which is made to unfold according to a rigid timetable of developmental norms.  Developmental psychologies have helped to make   career the authorised version of the life course in western societies. Although a career remains the referential model to which we are all supposed to aspire, in reality its performativity is confined to the children of a diminishing elite, often privately educated, who enter the liberal professions. Careers are not quite what they used to be. They now subsume internships, portfolio working, and other forms of pseudo apprenticeship. The orderly incremental progression has been replaced by intermittent and erratic forms of self-promotion. Career is once more approximating to its original sense of 'careering about'.
The four codes make use of other kinds of time to give a sense of duration and endurance to the lives whose histories they help shape. Within the apprenticeship/inheritance frame the cyclical time of generation and the seasons can be used to rework the irreversible time of biological aging to punctuate family time into sequential phases or transitions. Within the vocation/career couplet the reversible time of biography and popular memory can be used to plunder historical events for special leitmotifs of meaning (e.g. the shared biographies of the 60′ generation). In its strongest form, each code throws a normative grid of periodisation and predicament over the life cycle, mapping out key moments and rituals of transition, establishing gender specific markers of im/maturity, and   editing the syntax of experience accordingly. The grammars, when totalized, not only define certain developmental ideals, but the dispositions that have to be acquired to realize them. But as their normative strength weakens so their forms of articulation becomes ever more variegated and difficult to decode. Retro-modernity flourishes under the sign of inheritance regained or the quest for lost vocation, while apprenticeship marries up with career to re-invent the notion of modernity as progress.  However, there are many sources of tension between the life historical messages conveyed by these codes. Once sons could no longer follow fathers and girls, mothers, into the same occupational culture and community, other life journeys became imaginable.   Many of these tensions came to a head during youth and much of the emotional labour of traditional adolescence in fact consisted in learning to decode, differentiate and if possible reconcile competing life story lines. One reason for the current popularity of 'triumph over adversity' life stories is that they articulate elements from all four codes into a single aspirational mash up. Contemporary memoirs specialize in the assertion that that all forms of adversity, whether inherited or acquired, all obstacles to the achievement of a calling or set backs to a career, whether externally imposed or self-willed, are to be welcomed as spurs to the ultimate achievement of personal success.