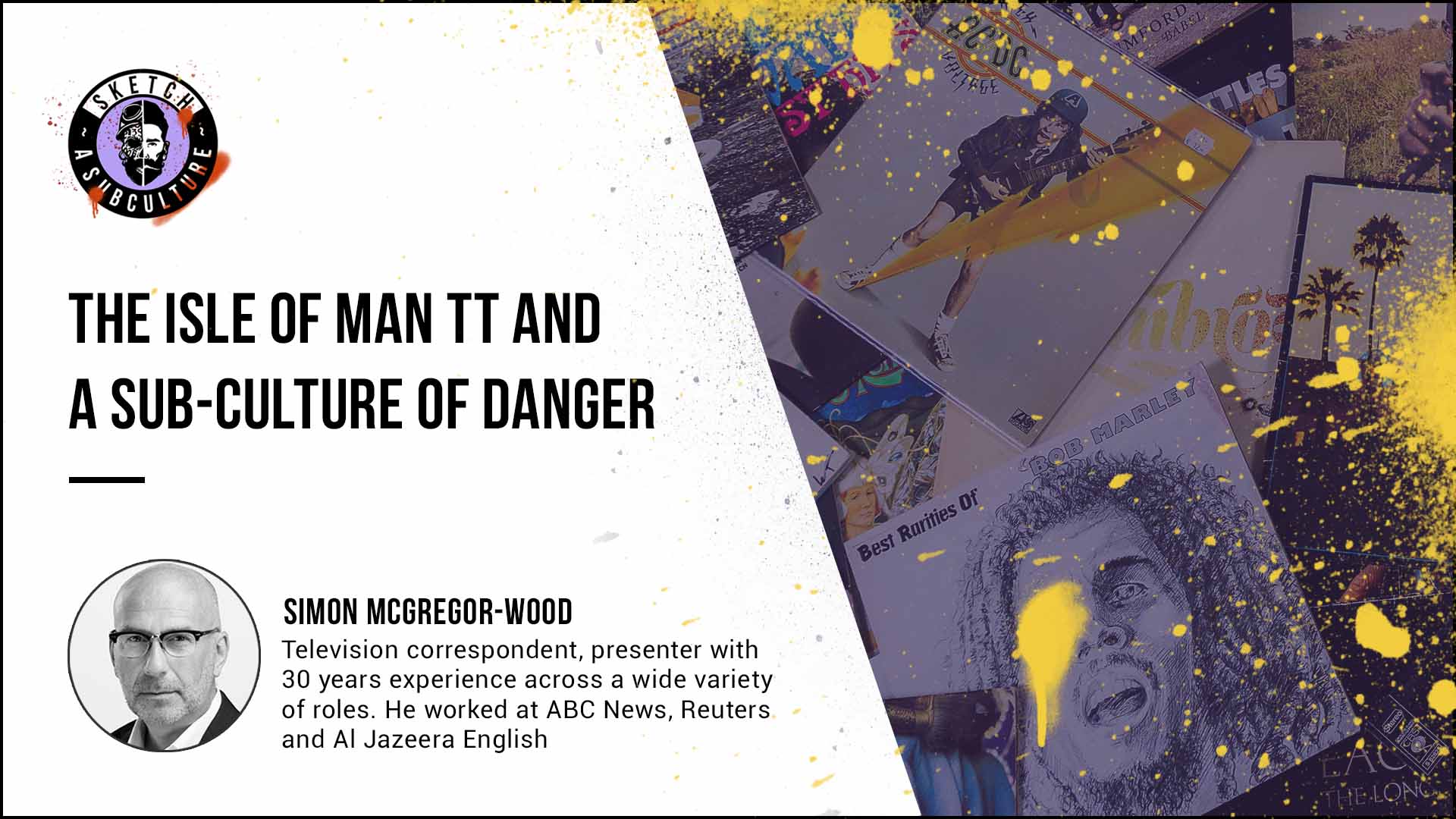 Simon McGregor-Wood – Television correspondent and presenter with 30 years experience across a wide variety of roles. He worked at ABC News, Reuters and Al Jazeera English.
I am a motorcyclist and a journalist. In 2012 I got to combine my passion for the culture of motorcycling with my passion for story telling by making a film about the Isle of Man TT races. It was called The Isle of Man TT: Addicted To Danger.
I first started motorcycling in my early twenties. I didn't start out with a fixation with speed or danger, or even with the culture of motorcycling. I just needed a better way to get to work. But soon, that all changed. Soon I was learning how to ride on race circuits and speed was becoming the most important thing. Several years of amateur racing followed, most of it spent in the middle of the pack with occasional crashes and zero trophies. But it was one of the most exciting things I've ever done.
Today I stick to organised track days. Taking a bike onto a circuit with dozens of other enthusiasts to relive more youthful moments. The adrenalin rush may be smaller but for someone in their fifties, it's more than enough.
So yes, I have spent several decades immersed in the world of motorcycling, in the culture of motorcycling. I wore the clothes, I read the magazines, I watched the races, I had my heroes and villains, I talked the talk. I identified with my fellow bikers. On a Sunday afternoon ride we'd nod at each other as we flashed by. If there was a problem with the bike it was always a biker who'd stop to help.
Then one day I lifted the lid on a motorcycling subculture I didn't know existed. I saw a video clip of people racing on roads in the UK. One road in particular. A 37 mile stretch of public highway on the Isle of Man, a small rather old-fashioned place in the sea between England and Ireland. Every year they hold a series of races called the Isle of Man TT. TT stands for Tourist Trophy and it all started would you believe, back in 1907.
I was immediately fascinated and knew I wanted to know more. This was a motorcycling culture I knew nothing about. It obviously had its own rich history, its traditions and personalities. There was a way of life and from the racing point of view, a completely different approach. In 2012 we went to make a film about it for Al Jazeera.
The TT, as it's called, is a dangerous race. It's often called the most dangerous race in the world. Most years people die doing it. And no one is immune from making a fatal mistake. Experience and knowledge of every twist and turn of the circuit is an advantage, but it doesn't stop mistakes. On the Isle of Man mistakes are usually fatal. They involve lamp posts, and stone walls, the sides of houses or a patch of oil left by the bike in front. If you make a mistake on this circuit there's nowhere to go.
So there's a culture of danger here that doesn't exist anywhere else in motorsport. Look at Moto GP, the crème de le crème of bike racing. It's fast and people get hurt but these days they rarely die. As a spectacle it's a huge success but a fine balance is drawn between maintaining the speed and excitement and keeping the riders safe. Circuits are constantly assessed. If the bikes get faster are the circuits still able to accommodate them? Safety culture looms large and most people think that's right.
On the Isle of Man different standards exist, and for the fans who flock there every year this is surely part of the attraction. It's the same for the riders. For many, "normal" racing is too bland. They're looking for a tougher challenge where danger is ever present.
"Where else can you do this?" they ask. "What other sport can you do, where if you get it wrong you're dead? That's the buzz."
The danger is almost celebrated. For the fans it certainly heightens they're admiration for the riders. It intensifies their heroism. No one's forcing them to do it. Most of the riders are keen amateurs and no one's getting rich with prize money of £25,000 for a win. That's not enough to give up your day job.
Perhaps there is a pushback against safety culture. The TT used to be part of the World Championship. It was the British round of the season. That is until riders started to refuse to take part. You could hardly blame them. Riders tell you it takes at least three years to learn the TT circuit. How could the world's best riders be expected to adapt their styles and approach for one completely unique race a year. And the death toll was mounting. In 1977 the race was moved to Silverstone and never went back.
In this subculture there is clearly a very specific approach to danger and death. It can only exist because the Isle Man makes its own laws. Anywhere else and the TT would have been shut down years ago. For the fans the riders are like gladiators. They are celebrated for embracing the danger and the possibility of death. There is a collective defiance against people who would take away their event, and people who seek to make it safe.
This is not a suicide cult. No one goes to the Isle of Man to die but everyone realises death is sitting on your shoulder. And if death does come visiting? The race stops. Volunteer marshals and medics attend to the scene, and when all is cleared away, the race will restart. The understanding is that the rider who died would want it that way. Where else in the world does that happen?
This is a subculture where people take great pride in its history. 1907 is a long time ago. There is a list of famous riders who proved themselves multiple winners. The heroes of yesterday are respected with great deference. Many of them died doing what they loved.
TT fans are tightly knit and creatures of habit. They come every year and stay in the same place. They will have a favourite spot to watch the action unfold, often within touching distance of the bikes as they flash past at 200 miles per hour. They will buy the T shirt to add to their collection. They will bring their children and grandchildren and the tradition continues.
I suppose motorcycling and danger have always gone together. Conquering fear and feeling the adrenalin rush has always been part of the attraction. Self-expression and rebellion have also played their part, particularly in the post war era.
The subculture of the TT races should be seen in this tradition. The people who take part and the fans who watch are stubborn individualists wedded to history. There is a rejection of "cotton wool" safety culture. For many riders the TT is a chance to break free from the normal constraints of the day to day life.
For motorcyclists the TT represents the ultimate challenge in skill and endurance. Any other form of racing is repetitive and controlled. Other riders think they're mad for doing it. But at its heart the TT is about ordinary people doing an extraordinary thing in the comfort of a tightly knit and supportive community. And yes, they will all tell you, the danger is truly addictive.