I was a shy child, living in my own fantasy world, one which was a lot more exciting, and in a way more real, than my reality, which wasn't much cop. Dyslexic, painfully shy; trouble at home, unhappy parents. When I talk about my childhood to some of my mates their instant reaction is, "It can't have been that bad," and they tell me what a brilliant childhood they had, and how the many abuses society passed on to our parents and then down to us haven't affected them at all, as they drag on their spliff, take a swig of their beer and tell me of the latest relationship that has broken down.
When I look back to the days of my childhood, the times I remember being the happiest (and it is the same with my friends,) are those I spent with friends away from the house, and the heavy atmosphere of home. It was on one of those nights that this whole Skinhead story begins. I was out with my friends, causing mischief and mayhem in High Wycombe on a dark October evening, ransacking the bins of Woolworth's and playing "He" (also known as "Tag" or "Tin Tan Tallyo") in the multistory car park in the centre of town.  There were about twenty of us, all mongrels from a pretty grim estate called Micklefield to the east of High Wycombe. Being only fourteen I had to be in fairly early during the week.
Little did I know that this evening something was to happen that would change my life for good. I came in as usual, took my shoes off at the back door (one of Mum's iron rules), and came into the front room where my mum was in her favourite chair, my dad in his. Top of the Pops was on and there was a band playing, a group of young guys jumping around to a tune the likes of which I had never heard before.  I was transfixed and then blown away, the affect of this band on me was incredible.  Who are they?  What's their name? I must have that record now.  I must have it.  The band, I found out, was called Madness.  The next morning I think I nicked a pound from somewhere in the house before leaving for school.  There, all my friends were talking about "Madness."  Rumors and conjecture about who they were abounded.  Were they Mods? Yanks? Punks? Nobody knew.  I went straight to Woolworth's after school and bought the single that was to completely change my way of life and set me on an unbelievable journey.  I played that record to death, until the grooves practically wore away, and I was on the verge of being hung, drawn and quartered by my family.  The record was "The Prince"; the year was 1979.
The debate on where "Madness" fitted in continued.  Eager teenage researchers gleaned countless sources, and slowly a composite picture of the group emerged.  Although part of the Two Tone/ Mod revival scene, their influences and image strongly echoed late Sixties Skinhead culture.  "The Prince" was a tribute to Jamaican bluebeat legend and Skinhead icon, Prince Buster.  The alternative A-side of the single was a cover of Prince Buster's song "Madness", which had inspired the band's choice of name.  It began to emerge that Madness were really more of a Skinhead band than any other kind of band.
I certainly felt this, and became a Skinhead very soon after discovering them. I became a Skinhead because of the music, and the attention I received, especially from girls.  I loved dancing, music and girls, and the Two-Tone scene seemed to have it all.  It totally spoke to me, spoke to me about my environment in which a new multicultural generation of kids was coming of age: Pakistani, Polish, Jamaican, Irish etc. etc.
Being a Skinhead also drew me to Oi! Music because it was directly geared towards the Skinhead movement.
The first exposure and I am sure the first time I had heard about Oi! Music was on one Saturday hanging out downtown.  I was wandering about when I bumped into one of my friends (Sean Taylor I think it was) who excitedly informed me of the latest musical addition to the Skinhead playlist, he took me to OUR PRICE the small record shop. The record shop was full of my mates excitedly surrounding one of the record racks and passing around an album with a yellow cover.  I demanded a look and that was the first moment I was introduced to
OI! THE ALBUM with a picture of Stinky Turner of the "Cockney Rejects" giving an energetic two fingered salute to the world.  Here was a whole album of music dedicated to being a Skinhead, and street urchins bands that were unashamedly Working class and proud of it.
In a world where nearly every close friend and the whole neighborhood and what looked like the whole country was affected by Skinheads there was hardly ever a mention of the cult in any of the media.  If Skinheads were mentioned it was in an extremely negative light. I feel this sort of attitude to deny anything that is a little hard to understand was prevalent throughout the whole of society from top to bottom. If you had a fight you were out of control, if you wanted sex you were a pervert, if you wanted to be a little different you were a freak.  There seemed to be Skinheads everywhere, buying records, buying clothes, hanging about in gangs, pairs, females, young kids to adults.  From my angle the cult seemed to have penetrated every part of my world and more likely than not contributing somehow to society (I had a Skinhead friend Chris who is now a very rich inventor, he invented a contraption to make life a little easier for the physically handicapped when he was still a Skinhead.) But at the time Skinheads were given as much attention by the media as prize marrow growing contests in Scunthorpe.  Here was a music and a movement that was totally dedicated to this massive underbelly of youth that were being totally ignored by the mainstream in the hope that if they disregarded it we might just all go away like good little children.  But we didn't and the Oi! Movement grew to become a worldwide influence.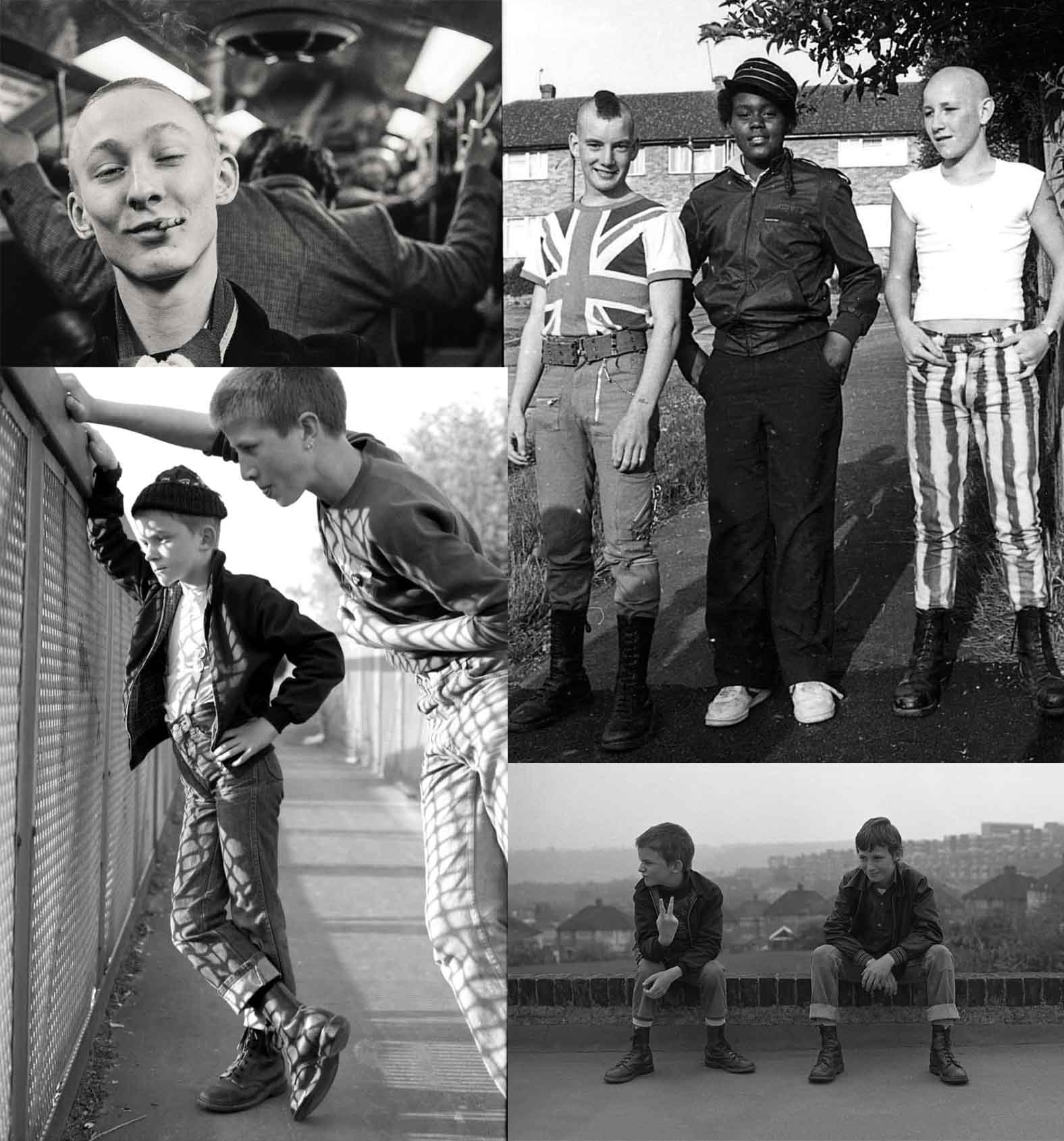 When you have bands like Dinosaur JR quoting little known OI! Bands as their greatest musical influence it makes you think there are these kids in some backwater town in the States eagerly awaiting the next OI! Album to be sent over from England.  OI! Was looked down on from a great height by the music press, considered the laughing stock by music journalists, so much so towards the mid eighties if it was not for the fanzines and the die hard supporters of OI! You may have been mistaken that Skinhead and street punk just did not exist.  But it did, and a few independent record companies supplied the still growing demand especially abroad. When these kids in America decided to get out of their bedrooms and start their own punk and OI! Bands then matured, grew their hair long and came over to England in the guise of bands like Dinosaur JR, the same Journalists were spunking in their pants over the new sound.  It just sounded like the OI! Music that I had been listening to for years.  If you want to succeed go abroad give your material to a bunch of scruffy yanks and watch them come back with the same stuff a few years later and make a million bucks
"Buster Blood Vessel" from the group "Bad Manners" was the only singer in a successful chart band to mention the word Skinhead in his songs "I'm just a Skinhead YOB."  Because of the likes of bands like the "Cockney Rejects" I remember being terrified of going to the East End for years thinking you were bound to get your head kicked in if you as much got off the bus in Bethnal Green.  "The Business" educated us in the joys of drink driving and introduced us to such savoury characters as HARRY MAY with his shooter in the boot.  "The Four Skins" Sung about all coppers being bastards and leaving school with f*ck all prospects.  "Cock Sparrer" demanded that the kids needed more than just masturbation to pass the time.  And let's not forget that truly class band with lyrics Bob Dylan would die for and tunes Andrew Lloyd Webber would have been proud of, you guessed it the one and only "LAST RESORT"… "Smashing every thing up in sight, making old ladies die with fright" It became a disappointment to my friends and me that at the time "Madness" denied their Skinhead roots out of fear of bad publicity.
As time went on I left school and became part of an even tighter gang.  I felt our Wycombe mob was different from a lot of Skinhead gangs, as we were quite isolated from the rest of the Skinhead world, which in the early to mid Eighties was largely focused on the more right wing side of the Oi! Movement.  The reason we probably remained Skins longer than most was we were good friends with one Aiden Sterling, who played a very large part in bringing Skins together at the time.  Originally from Bedford, he moved to Aylesbury and, due to the force of his personality, was highly respected by all who met him. One of my strongest memories of Aiden was before I really became a fully-fledged Skin, and how he influenced me.  I'd had my haircut, it was growing out and my dress sense left a lot to be desired.  I loved "Madness" but I also was deeply into – wait for it – "Gary Numan".
I remember walking home from town one sunny summer's day, and passing the magistrates' court.  On the other side of the road, standing in the midday sun, were three men striking a contrast against the brown glass entrance to the courthouse. Two were tall, immaculately dressed solicitors in expensive suits, and in the middle stood a Skinhead, shorter than the two solicitors, dressed in a red Ben Sherman shirt, immaculate white Sta-Press, Crombie and cherry red Doc Marten's.  What struck me strongly was how proud and dignified the Skinhead looked between these two obviously very professional, confident and successful men.  How he stood his own in his chosen lifestyle. He was a Skin, but also a man in his own right and at that moment he seemed to preside over these two men. There were no intrinsic differences between these men despite the obvious, superficial contrast. They all looked brilliant in their respective worlds.  This memory is one of the most distinct from my early Skinhead days, a scene, which was lasered onto my memory as surely as light onto a negative.
I remember meeting some older Skinheads from London at the Royal Wedding, (Charles and DI) and asking them why they weren't Skins any more.  They said they had been Skins in '78, and now it was all over for them.  In their eyes it was old hat.  I was shocked.  Being a Skinhead was still so new to my friends and me and we believed it was for life.  I was so intense about being a Skinhead to me it was final.  Anybody who grew their hair for work, school, their girlfriend, whatever, was severely mentally impaired.  I would be downtown and would see an older Skin who was growing his hair for some reason.  I would feel very disappointed and could not understand how one could ever not be a Skinhead once the step had been taken. I truly believed that it was a way of life. Being a Skinhead was not just about clothes and style, but something that went unfathomably deep.  I feel this even today.  After years spent trying to understand myself, my actions and life, I still have not got a clue as to what the indefinable meaning of being a Skinhead is.  Sociology, anthropology and psychology might offer some answers, but I still believe there is a spiritual and mystical part of being a Skinhead that is inexplicable.  It's like being in love: you just can't explain it or put it into a nice neat little definition in order to feel more in control of yourself.
I always felt being a Skinhead was far beyond my personal choice. Frequently over the years I used to catch glimpses of myself in shop windows and think, 'Who the hell is that thug? The way I felt about myself inside contrasted greatly with my outer appearance.  I still viewed myself as a shy, sensitive human being, but, looking back, I was also deeply insecure and very angry.  Always on the defensive, intense, with enough energy to start up a power plant.  I despised all authority, yet was also pretty authoritarian myself.  Full of complexities and contradictions.  All of this had to come out somewhere.  I thank God I had the sense to take photos and pour at least some of this angst into an art form, and not just aggro, getting into trouble with the Old Bill, gang fighting, rowing with my girlfriends and generally being a sociopath.  It wasn't always that bad, really.  Much of the time spent being in a Skinhead gang meant just sitting around drinking beer and taking the piss out of everything and everyone, talking shit and boring our girlfriends to death with old war stories that happened years ago – and some that never happened at all.
Londons East End was the Skinheads spiritual home.  We were carrot crunchers from the countryside and we believed that the Skins in London were the Hardest Mother f*ckers ever to walk the Earth.  I remember going to the Last Resort, London's only pure Skinhead shop at the time, with my Mum and Dad and Neville.  The sight of all those Monsters coupled with the Last Resorts' sales methods (buy something, or you may not walk out of this shop Alive, Vibe) will stay with me for the rest off my life.  My brother and I being tourists bought Skinhead T-shirts and were ecstatic at visiting a Skinhead Mecc full of The real East End kids, the ones in Nicks Nights' book "SKINHEAD".  A book I never really liked because I felt I had taken better photos even though I was only fifteen. Also he wasn't a real Skin, just jumping on the bandwagon.  Sour grapes on my part really. But looking back his book "Skinhead" was the only modern reference point that me and my mates and any other Skinhead had at the time.  Without Nick Nights book there would have been even less literature about our chosen path.  Until he published that book it was just negative news clippings and archive stuff from the late sixties.  I don't think I even saw a copy of Richard Allan's 'Skinhead' till I was about eighteen.
What amazes me is how insecure we all were, I mean all of us, girls, boys, Blacks, whites.   No real role models very few wise adults that could offer guidance.  I always had a very strong feeling from the age of fourteen that I was on my own when it came down to it.  The world I was living in was so incredibly different from my parents and the adults around me that I SEVERELY RESENTED being told what to do by people who to me had no experience to speak of.  A line in a "FOUR SKINS" song goes "You could be a laborer or an office clerk, you wouldn't believe the things I've seen and I'm only seventeen, what a wonderful world, what a wonderful world this is."   This line really spoke to me, I always had the feeling that by the time I was eighteen I had lived a pretty unusual and intense life.