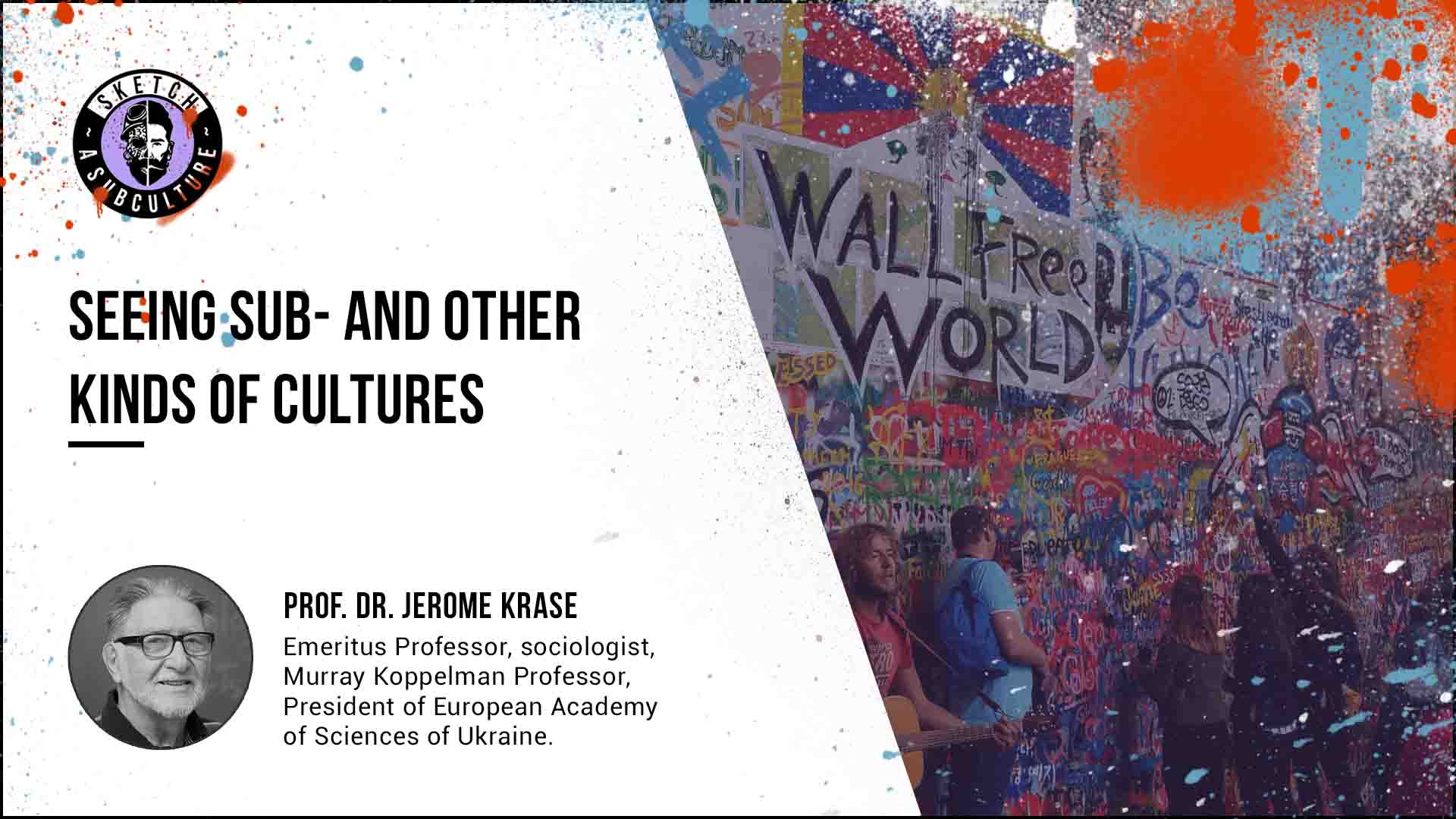 Prof. Dr. Jerome Krase – Emeritus Professor, sociologist, Murray Koppelman Professor, School of Humanities and Social Sciences.
I recently participated in an intriguing virtual meeting of the minds entitled "Sketch a Subculture" which introduced the subjects in the following way:
The current century offers people a diverse set of thrilling, advantageous, successful, convenient and even simply beautiful lifestyles: springing from a "criminal wealth" to the "splendid lifestyle" of a free traveler, from the thorny path of a businessman to an extreme tamer of the forces of nature. But what does each of these lifestyles offer? Does a lifestyle always meet the real, secreted and innermost yearnings of a person? Often, having experienced one life and reached certain heights, let us say, on the professional plane, there is still the emptiness of an unrealized aspiration, and one continues seeking for fulfillment. People often find what they were looking for in the form of a community of no less compelling and active like-minded people — in a specific environment termed a "SUBCULTURE."
The intense and, for me, enlightening discussion took place on-line over a period of a week and involved six panels of participants with widely varied expertise and even more varied artistic, scientific, humanities, and practical perspectives. I joined Panel 4 which was tasked with interrogating
1) Ways to explore the attributes and symbols of subcultures.
2) The phenomenon of "Subculture in Subculture" and characteristics of its study. The synthesis of ideas in the subculture, reasons for the existence of subcultures, invisible internal mechanisms that maintain their continuance.
During the course of the program, I learned a great deal from the other speakers, some insights of which will be presented here in my post-meeting reflective essay. Before starting, I must note my great appreciation for the other speakers — Oleg Maltsev, Bernardo Attias, Paul Hockenos, Gavin Watson, Ross Haenfler, and Derek Ridgers,- —as well as the patient moderator Iryna Lopatiuk. Their presentations greatly influenced my thoughts on the subject. I also must note that as a visually-oriented social scientist, I will take a visual point of view, and emphasize that although I take a lot of photographs and use them in my research and writing, I do not consider myself a "photographer." The endeavors of artists have different, more aesthetic goals, as opposed to my more scientific ones, and this in turn differently informs our mutually visible products and productions. For me, each and every social scientific concept has a visual/visible expression, therefore, no matter how cultures and subcultures are defined, they can be seen.
In order to address the assigned tasks of our panel, I feel I must address what I believe was really the first question "What is a subculture?" Being an academic dinosaur, I must be allowed some pedantry here as the old-fashioned structural definition makes most sense for me which was I learned from the Chicago School of Sociology as well as from its precursory structural anthropology. As the social sciences have a penchant for dichotomies, in my Sociology/Anthropology (or was it Anthropology/ Sociology?) Department at Indiana University, I learned that Society (with a capital "S") was divided into its mirrored Social Structure and Culture. These were simply translated to the Goals (values) of society and the Ways (norms) to attain the Goals. Given the usual emphasis in the social sciences and humanities on morality, these of course were the "appropriate" (legitimate) goals and ways for attaining them to which members of society were socialized. Because American society was overly materialistic, and also allegedly achievement-oriented, social scientists were primed to study how members did or did not meet Society's demands on them. Overarching theoretical points of view for social science were, for me at least, the more or less politically reactionary/conservative Structural Functionalism of Emile Durkheim (and Bronislaw Malinowski's "Cultural Functionalism") versus the more or less liberal/radical Conflict, or Political Economic, approaches emerging from the work of Karl Marx. Over the decades these general divisions have remained, but with multiple variations on their themes.
Subcultures were generally seen as emerging from, or in opposition to, THE dominant cultural hegemon. This subordination was often also referred to in terms of majority and minority; referring not merely to relative demography but to socioeconomic and, therefore, political power. Another common take on the social reality of the myriad of subcultures was the scholarly creation of other, related, dichotomies such as social disorganization versus social organization, with the dominant culture, of course, carrying the prized "organization" label. Only later did micro-social scientists, via thickly described ethnography, inform us that subcultures were forms of social organization and not merely sociological misanthropes. I should add the impact of post-modern criticisms of assigning relative value to diverse social realities.
A related term, which has also been thoroughly banned in Academe, but not Society, is the term "Deviance" and its other biased iterations of disreputable/discredited social life.  Note that such labels are assigned by those in power, and although the behavior might not change, the label can. The best, and most recent, example of this is the decriminalization of recreational marijuana use and the historical, and racist roots, of the demonization of marijuana smokers by the Federal Bureau of Narcotics' first (1930) Director Harry J. Ainslinger and the film Reefer Madness (1936)
At this point a mention of  few of the now-classic theorists on deviant or other subcultures that I academically grew up with are needed which I assume require no further discussion such as Robert K. Merton, Louis Wirth, Erving Goffman, Richard Cloward and Lloyd Ohlin, Howard S. Becker, David Matza, and Edwin Sutherland.
Now we shall move on to my explorations of the symbolic attributes of subcultures. In the discipline of sociology, structuralism continues to be thoroughly embedded; even its current post-variants as valiant attempts have been made to make THE hierarchy more diverse, rather than to destroy it. I have discussed this in many places, as to why and how the disciplinary hierarchy persists, despite pronouncement of its imminent demise. Although in the past, I was committed to structuralist social science practices, today I am primarily engaged in ethnography of one sort or another and am happy to be an "Urban Culturalist," defined by Michael Ian Borer as those "…who study the symbolic relationship between people and places and how people invest those places with meaning and value in order to make sense of their world." (Borer 2006 p. 180) In this perspective Borer notes six areas of exploration: (1) Images and representations of the city; (2) Urban community and civic culture; (3) Place-based myths, narratives and collective memories; (4) Sentiment and meaning of and for places; (5) Urban identities and lifestyles; (6) Interaction places and practices. (ibid.)
Although I should have remembered, the importance of Florian Znaniecki's contribution cultural sociology, it was only recently brought back to my attention by Guenter Lueschen. (2007)  For Znaniecki, culture was centrally important in organizing human affairs, but not to the exclusion of structural forces. Although I was familiar with The Polish Peasant in Europe and America, written with W.I. Thomas, I must agree, as did Lueschen, with Piotr Sztompka's conclusion that Znaniecki's "most lasting heritage for sociology…(is in) …his philosophy of the social sciences" (1986) continuing that "It was not The Polish Peasant that made a major contribution to sociology. Rather it is his continuous concern over methodology, and his understanding of sociology as culture throughout his work and in his Cultural Reality (1919), The Method of Sociology (1934) and Cultural Sciences (1952)." (Sztompka in Lueschen 2007: 209-10) Additionally, Znaniecki contributed greatly to the development of the method of analytic induction, for the sociological study of culture, a method which I learned from my undergraduate mentor Alfred Lindesmith. (Krase 2018a)
The broadest framework for my approach would be called Symbolic Interactionism which was birthed by George Herbert Mead and Charles Horton Cooley, connected to the Pragmatism of John Dewey and furthered by Herbert Blumer.  Since Symbolic Interactionists, like myself, argue that society is constructed of signs and symbols, the exploration of the attributes and symbols of subcultures is what we do for a living. Symbolic Interactionism is an important part of a nexus of related phenomenological, ethnomethodological, social constructionist and communication theories. By combining these approaches, we argue that people act on things based on their interpretation of the meanings of those things, which are communicated to them via a wide variety of natural and conventional signs, and symbols. Of most interest to us are conventional signs that derive their meaning from social consensus. I must admit that I tend to oversimplify almost everything. For example, as to the linguistic structural semiotics of Ferdinand de Saussure, the  "Signifier" is the form of the sign, and the "signified" is the concept, or what it represents. Saussure, as many other formal semioticians, stressed words/language, whereas I stress visual signs (which might include words/language and are also "spoken" of/about).  Others who are important in my vaguely visual semiotic work are Jean Baudrillard, Pierre Bourdieu, Michel De Certeau, Clifford Geertz, Henri Lefebvre, Kevin Lynch and Anselm Strauss.
While attention on the part of scholars and artists to the extraordinary has the greatest payoff, I remain committed to the social semiotic study of the ordinary, everyday, quotidian life which becomes more or less interesting to scholars depending on who or what is being studied. In general,  I am concerned with social practices that are specific to various cultures and communities and finding the meanings of these practices for both insiders and outsiders.  (Lemke 2010, Bezemer and Jewitt 2009, Bruce, et al 2015)
As noted by Lyn Lofland, visual studies of urban life are enhanced by symbolic by demonstrating how people communicate through the built environment; for example, by seeing settlements as symbols. (2003: 938–939) She also argued that "the city, because of its size, is the locus of a peculiar social situation; the people found within its boundaries at any given moment know nothing personally about the vast majority of others with whom they share this space." Adding that "city life was made possible by an 'ordering' of the urban populace in terms of appearance and spatial location such that those within the city could know a great deal about one another by simply looking." (1985: 22).
While much of my thick descriptions are plainly visual, as represented by still photographs, that I often take while walking through interesting spaces and places. (Krase 2014, 2015)  I also dabble in a plethora of other ethnographies, such as digital ethnography. (Krase 2018b) I define the data of "visual culture" as the visible expressions of social norms and values. Of course, there are other sensual aspects of social structures and cultures that can be recorded by other methods such as "sense walking," in which all five senses are assessed. (Bruce, et al, 2015) Most of my visual work has especially focused on vernacular landscapes as expressions of ethnic, racial/ist, religious, class, gender, life styles, and other (sub)cultures; including the tagging graffiti of local youth gangs. (Krase 2020)
For John B. Jackson, the "…Vernacular Landscape lies underneath, below the symbols of permanent power expressed in the 'Political Landscape.' It is flexible without overall plan and contains spaces that are organized and used in their traditional way. Much of it is 'countrified'; home made using local techniques, local materials, with the local environment in mind. Here I take the term 'countrified' ageographically as even in the urbanized of places, vernacular landscapes are part of the life of communities which are governed by custom and held together by personal relationship." They "… cannot be comprehended unless we perceive it as an organization of space; unless we ask ourselves who owns the spaces, how they were created and how they change" (1984: 6, See also: Krase, et al 2020).
We can argue that the expressions of (sub)cultures, and our responses to them based on our interpretations of them, create our social realities.  However, capturing the appearance of the symbol or sign by any method of data collection doesn't mean you know that you will correctly interpret it.
In this regard I often quote from my Seeing Cities Change: Local Culture and Class:
    When we pass through urban spaces such as a residential neighborhood we haven't visited before, we are like tourists using our eyes to decipher the clues and cues that loudly and quietly surround us. We might ask ourselves, Is this a safe or a dangerous place? Am I welcome here or should I leave before it is too late? What kind of neighborhood is it? Are the people who live here rich or poor? What is their race, ethnicity, or religion and how (or why) does it matter? Some things are easy to tell on a street, such as whether there are things for sale. Legitimate merchants make it obvious that they are seeking customers with signs that compete for attention, but for the sale of illicit goods, the signs vendors give off are subtler. Yet it seems that for the knowledgeable customer they are in plain view. This reading of the "street signs," so to speak, is not merely an aesthetic exercise. What we see makes a difference in how we respond to the places and the people we encounter in our increasingly complex and changing urban surroundings. (2017 p. 1. )
Metaphorical Seeing
Our experience with "seeing" is not always pictural; much seeing is metaphorical, as in "I see.", even when you don't. I once was on a doctoral dissertation committee of a bright young man who was the product of a culturally mixed Afro-Caribbean and Afro-American marriage. He was studying the competitive political relations between the two groups in a contested multiethnic Brooklyn neighborhood. I explained that since his committee members, like myself, were products of cultures of Little or No Color, he would have to translate his ethnographic narrative in order for us to understand it; and in the process ironically reminding him of Max Weber's claim that the discipline of sociology relies on the verstehen method. Also, current sociological practice assumes that as to sociological understanding structural-quantitative data can efficiently substitute for deep-diving field work; which it can't. The demography of the neighborhood was the same for anyone who looked at it, but that provided little understanding of the complex social relations between the two groups. In addition, in order to put yourself in the place of the other, you must learn, at least minimally,  the culture.
Creating Meaning
During our panel discussion, Ross Haenfler spoke of seeing the frightening spread of neo-Nazi and Skinhead subcultures in Germany whose Anti-Semitism, Islamophobia, and generally anti-immigrant super nationalism was expressed in visual symbols such as swastikas and other Nazi  symbols. However,  such conventional signs, mean different things to different people as they themselves convey nothing. In this case; swastikas to neo-Nazis as opposed to Jews.
This reminded me of the impossibility of adequately conveying the enormous sorrow of the signs and symbols of the six million Jews who comprised the greatest number of innocent victims of the Nazi extermination machine. In my column Traces, I related my visit to Auschwitz (Oswiecim) with two of daughters during which I decided NOT to photograph, as I felt I would be creating additional signs and therefore adding to the crime.
Figure 1. Shoes! Credit: Jerry Krase
… during the same World War II in Europe the Allies said they didn't bomb near the German concentration camps because of the problem of potential "ancillary" damage, which incidentally made it possible for me and two of my daughters to experience a "perfectly preserved" Auschwitz when they came to visit me in Poland last Spring. I waited for Kristin and Karen to get to Krakow because I was afraid to go alone. We went to pay respects to the families of too many of our friends who lost a piece of themselves in the Holocaust.

My connection to the Holocaust is Growing up Gentile in Brooklyn and I remember things like when I was very little asking my mother to explain "it" after coming across photographs of concentration camp victims in a magazine, and as a teenager delivering orders to people with blue tattoos on their wrists or forearms. In Brooklyn you can't avoid "it" and "its" repercussions; like Max and Helen, survivors of Buchenwald, who owned a coffee shop I used to frequent who always kvelled over my children when I brought them in with me to share my "Breakfast Special".
Well, the point is that when we got to Auschwitz and passed through the Arbeit Macht Frei portal I tried to find something small enough to comprehend. A one-piece-at-a-time-kind-of-thing that could be slowly added up to millions allowing me to remember without being totally overwhelmed by grief and shame for being a member of the human race.
I found "it" in a mound of shoes behind the glass of an exhibit of the "personal effects" taken from people before they were gassed and their bodies incinerated. I took out my memo pad and quickly drew a picture of one shoe which caught my eye. It was tiny; a young girl's red and white leather open-toed shoe with a slightly elevated wedged heel. It was the kind of shoe my wife and I might have bought for our daughters to wear for their high school graduation and about which they would complain as not being "in style". I imagined that this barefoot child and her mother spent their last moments together in the same room that later I also entered- and then walked out of- with my own children. Shoes! ("Remembrance of Jews past, but never lost," Traces
http://bloggers.iitaly.org/bloggers/6498/remembrance-jews-past-never-lost)
Discovering Meaning
Here is another example of interpreting symbols and subcultures which comes from one of my photography excursions in Berlin through the Kreuzberg neighborhood. Drawing upon Jakobson, Timothy Shortell and I note that the visual markers of collective identity commonly found in urban neighborhoods represent two different types of signs. Expressive signs are intentional enactments of some aspect of a person's identity for the purpose of signaling that identity to others whether they share it or not, such as national flags. In contrast, phatic signs of collective identity are produced in everyday activities of the community. Religious dress, for example, is a phatic sign because it is meant to enact the shared culture of the community. Although these phatic signs signal collective identity to members of both the in- and out-groups the production of phatic signs is not primarily about advertising identity. The main difference between expressive and phatic signs thus is similar to the distinction Erving Goffman makes in contrasting "the expression that he gives, and the expression he gives off." The former is intentional communication while the latter involves the interpretations observers make. (Krase and Shortell 2017, p. 25)
Figure 2. Saladin Kurdish Mosque, Kreuzberg, Berlin. 2008.,Photo Credit: Jerry Krase.
The route to Kottbusser Tor on foot passes through ethnically mixed areas. At its start, few stores cater especially to Turks, and Turkish-language store signs are not dominant. Female clothing, however, is an important phatic indicator of Islam that contrasts especially to the style of dress for young Berliners, and the clothing stores along the route feature headscarves and long dresses displayed on modest mannequins. In addition, Turkish and other Muslim pedestrians remain segregated by gender if they are in groups on the streets.

Unlike the many Doner Kabep shops decorated in red and white and sporting Turkish flags, other phatic sign of Turkishness are unobtrusive such as the higher number of satellite dishes to receive television broadcasts from home outside apartment windows closer to the center of Kreuzberg. A much more cryptic, but expressive, sign above the doorway of a building adjacent to the Fleischerei Kasap Ziya contains the three faded, hand-written words: "HEREKETA ISLAMIYA KURDISTAN," which is the Kurdish Islamic Movement in southern Turkey. On the second floor of the same building, near a satellite dish, are displayed, "MIZGEFTA SELAHADDINE EYYUBI" and a drawing of a large domed mosque with two minarets, the sign for the Selahadine Eyyubi Mosque named for the general of Kurdish origin better known as Saladin. In Germany, small places of Islamic worship typically have been tucked away in immigrant areas. Similarly, the Maschari Islamic Center, one of Germany's largest mosques opened in Kreuzberg in 2010, was designed to be indistinguishable from modern office buildings at street level. Nevertheless, many native Germans not only see these phatic religious signs of collective identity as expressive, but also occasionally impute nefarious motives to them. (Krase and Shortell, 2017: 29-30)
Branding Meaning
Figure 3. Latino Refrigerator, Brooklyn, New York 2021. Photo Credit: Jerry Krase
Many residents lost their jobs or had substantially decreased incomes during the varied lockdowns because of the Covid 19 Pandemic in Brooklyn, New York. In response, a large number community organizations responded by running food banks for the impoverished. A related response to local food emergencies was the placement of refrigerators, that were occasionally replenished with perishable items, where people in need could take food. Some of the refrigerators, had signs attesting to the sponsoring organization. This one, was decorated in such a way to also symbolize the ethnic composition of the neighborhood.
References and Bibliography
Bezemer, Jeff and Carey Jewitt. 2009. Social Semiotics. In Jan-Ola Östman, Jef Verschueren and Eline Versluys (eds.), Handbook of Pragmatics: 2009 Installment. Amsterdam: John Benjamins: 1-13.
Borer, Michael I. 2006. "The Location of Culture: The Urban Culturalist Perspective" City and Country (5) 2: 173-97.
Bruce, Neil et al. 2015. "Analysing olfactory and auditory sensescapes in English cities: Sensory expectation and urban environmental perception," Ambiances/Varia https://journals.openedition.org/ambiances/560 Accessed March 6, 2021.
Chandler, Daniel. Semiotics for Beginners, http://visual-memory.co.uk/daniel//Documents/S4B/sem13.html#Saussure_1974
Accessed March 6, 2021.
de Saussure, Ferdinand. 1966. Course in General Linguistics. Ed. Charles Bally and Albert Sechehaye, in collaboration with Albert Riedlinger. Trans. Wade Baskin, New York: McGraw-Hill.
Goffman, Erving. 1959. The Presentation of Self in Everyday Life. New York: Anchor Books.
Jackson, John B.. 1984.  Discov­er­ing the Vernac­u­lar Land­scape. New Haven: Yale Univer­sity Press.
Jacobson, Roman. 1960. "Closing Statement: Linguistics and Poetics," In T. A. Sebeok, (ed.), Style In Language. Cambridge, MA: MIT Press: 350-77.
Krase, Jerome, Ballesta, Jordi, and de Larminat, Elaine. 2020. "Visual Sociology of the Vernacular Urban Landscape: An Interview with Jerome Krase," Les manières de faire vernaculaires: Vernacular Ways, Interfaces: Image, Text, Language, 44, 2020. https://journals.openedition.org/interfaces/1437
Krase, Jerome. 2017. Seeing Cities Change: Local Culture and Class. Aldershot, UK: Ashgate/Routledge.
Krase, Jerome. 2014. "Walking in Search of Migrants in European Cities." In Timothy Shortell and Evrick Brown (eds), Walking the European City. Aldershot, UK: Ashgate: 2014: 153-72.
Krase, Jerome. 2015. "Seeing Inclusion and the Right to the City." In Wolf-D. Bukow, Melanie Behrens, Karin Cudak, and Christoph Strück (eds.), Inclusive City – Überlegungen zum Verhältnis von Mobilität und Diversität zur Stadtgesellschaft. VS Verlag, 2015: 23-42.
Krase, Jerome. 2018a. "Ethnography: Bridging the Qualitative-Quantitative Divide." In Italo Pardo, Giuliana B. Prato, and Walter Kaltenbacher (eds.), Placing Urban Anthropology: The Production of Empirically-based Knowledge and its Significance to Society. Diogenes. Sage. 2018. First OnLine: DOI: 10.1177/0392192117740027
Krase, Jerome. 2018b. "The Multitude of Approaches to Urban Ethnography: Blessing or Curse?" In Italo Pardo and Giuliana B. Prato (eds.), The Palgrave Handbook on Urban Ethnography. Palgrave-Macmillan.: 71-91.
Krase Jerome and Shortell, Timothy. 2017, "The Visual Impact of Islam: A Special Focus on Turkish Migration to the United States and Europe," Urbanities, 7 (1): 22- 41. http://www.anthrojournal-urbanities.com/wp-content/uploads/2017/05/4-Jerome-Krase-Timothy-Shortell.pdf
Krase, Jerome. 2002. "Navigating Ethnic Vernacular Landscapes Then and Now," Journal of Architecture and Planning Research. 19 (94): 274-281.
Krase, Jerome. 1993. "Traces of Home." Places: A Quarterly Journal of Environmental Design 8 (4): 46‑55.
Krase, Jerome. 2012a. Seeing Cities Change: Local Culture and Class. Aldershot, UK: Ashgate.
Krase, Jerome. 2012b. "An Argument for Seeing in Urban Social Science," Urbanities 2.(1):18–29.
Krase, Jerome and Shortell, Timothy. 2011. "On the Spatial Semiotics of Vernacular Landscapes in Global Cities." Visual Communication 10(3): 371-404.
Lemke, Jay L. "Postmodernism and Critical Theory." Online: www. personal.umich.
edu/~jaylemke/theories.htm#Postmodernism%20and%20Critical%20Theory.
Accessed 10 Jan. 2010.
Lueschen, Guenter. 2007. "Sociology of/as Culture: The Unfinished Methodology of Florian
Znaniecki,"  Polish Sociological Review, 2(158): 209-21.
Shortell, Timothy and Krase, Jerome. 2013. "On the Visual Semiotics of Collective Identity In Urban Vernacular Spaces." In Dennis Zuev and Regev Nathansohn (eds.), Sociology of the Visual Sphere. London: Routledge: 108–128.
Sztompka, Piotr. 1986. "Some Aspects of Florian Znaniecki's Philosophy of the Social Sciences." In: Z. Dulczewski (ed.), A Commemorative Book in Honor of Florian Znaniecki. Poznan: Wydawnictwo Uniwersytetu im. Adama Mickiewicza: 257–274.
Znaniecki, Florian. 1934. The Method of Sociology. New York: Farrar and Rinehart.
York: Octagon Books).
Znaniecki, Florian. 1919. Cultural Reality. Chicago: University of Chicago Press.
Znaniecki, Florian. 1952. Cultural Sciences. Chicago: University of Illinois Press.