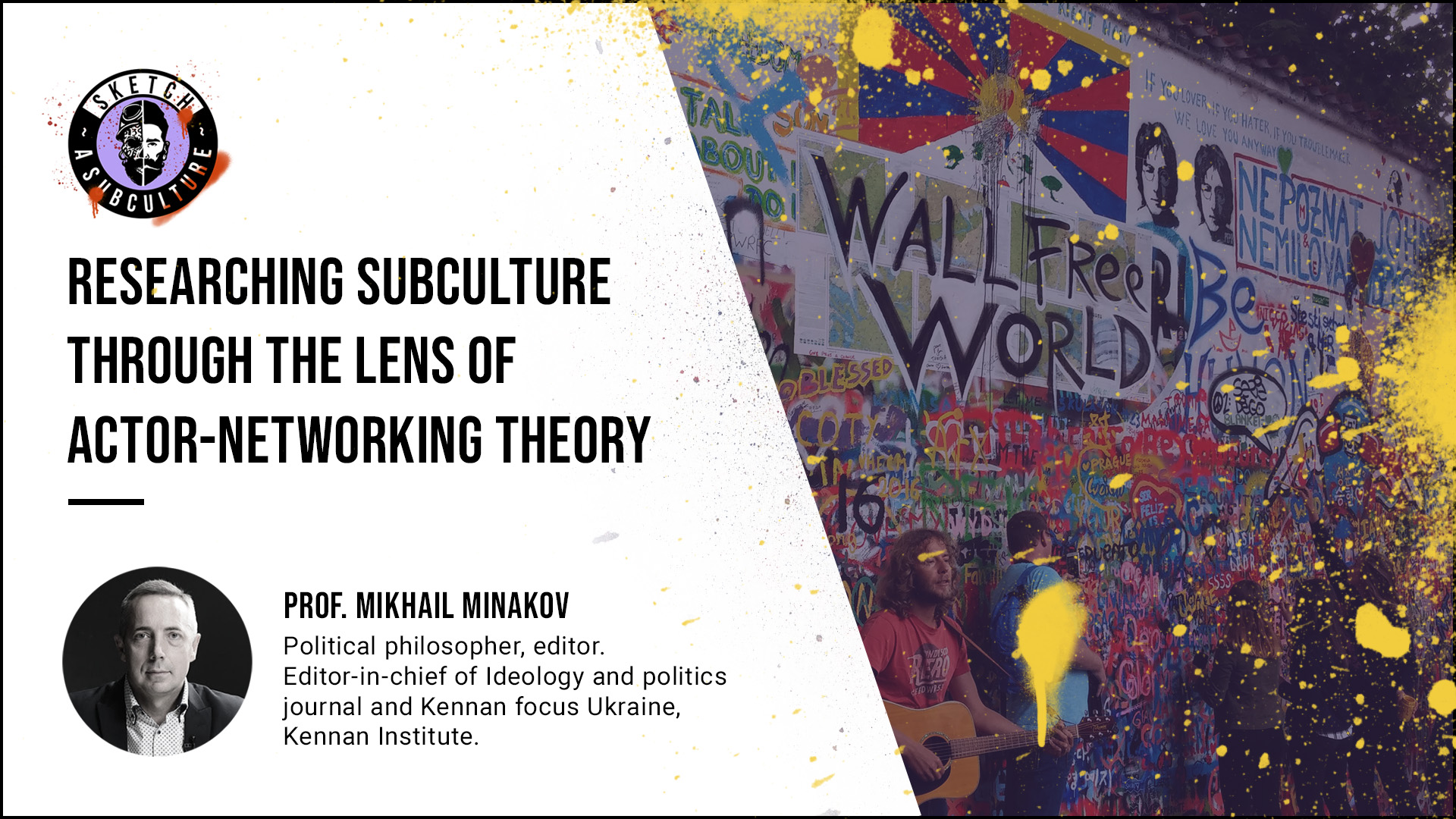 Prof. Mikhail Minakov — political philosopher. Editor-in-chief of Ideology and politics journal and Kennan focus Ukraine, Kennan Institute.
A 'subculture' is relatively well-studied phenomenon within the framework of contemporary social sciences. Between the 1950ies when a 'consumerist society' is shaped both as a wide-spread practice and a concept, and 1960ies when human and non-human collectives visibly react on them (on practice an concept) through new practices and concepts, and today the subcultures were objectified, described, and witnessed in their multiple changes in many scholarly and journalist studies.
If you look at the most cited researchers of subcultures, one can see a generic understanding of a subculture aptly summarized by Herbert Convey (2015):
"This volume refers to culture as a set of beliefs, customs, art, and so on of a particular society, group, place, or time. Societies typically have (common) beliefs along with ways of life and thinking called culture. Culture is diffuse and not dependent on face-to-face contact between all members. Within the larger societal culture can be smaller subcultures… A subculture is a group of people within a culture that separates themselves from the larger culture." (p.2.)
The mentioned separation is a complex act very significant for modern social sciences imagination. One of the pioneers in studying subcultures, Dick Hedbige (1979) writes:
"…we are interested in subculture – in the expressive forms and rituals of those subordinate groups – the teddy boys and mods and rockers, the skinheads and the punks – who are alternately dismissed, denounced and canonized; treated at different times as threats to public order and as harmless buffoons." (p.2.)
This "dismissal, denouncement, and canonization" is exactly a set of acts that creates the object of public reaction and of academic study, — as well as the reason for physical clashes, legal persecution, and academic debate for one definition of permanently changing 'object'. From all this one can see how the 'objectifying gaze of social sciences' works here together with other practices of hegemony and domination.
But today, a research of a subculture can try to have less penetrating and hegemonic approach towards living and multitude reality. This, for example, can be offered by Latour's actor-networking theory (ANT).
Why Latour? In his anthropology of science realistic research Bruno Latour has made a series of conclusions that were among the theoretical causes for post-anthropological turn (Latour 1999, 2013). A turn, supposedly, toward reality as such. No doubts, there is a doubt if this turn is a way to reach out to reality as is. However, it is indeed a sincere attempt to refocus science from all-too-much-human and, thus, political toward a context were human and non-human actors are taken into account while making research.
In ANT Latour offers to find and deny bifurcations that modern science creates while describing (mate)reality (ibid.). And this conceptual game does blur the scholarly understanding of the phenomena. For example, division between culture (society) and nature, according to Latour, is a bifurcation produced because of the focus on human: anthropocentrism creates a language that creates inequality among the objects of research and that causes its failure.
What happens with the objects of research are not seen through the modernist bifurcations?
Modern science is an example of the modernist dualism between subject and object. Science demands that that active subject cognizes passive object. Science produces knowledge within the myth of subject-object relations. However, if we do not follow bifurcation, in science we get a collective, a common space of people, objects and theories that act in a network of affects.
So ANT looks at reality as a collective of human and non-human actors that act by changing experience. So instead of subject and object we have affects and results of acts, we have actors, and we have their network of co-influence.
ANT can be applied to the research of subcultures, from a perspective that opens up not only structures of 'objects' like mainstream society and subculture, but also classes of features that account for a social, psychological, and economical world. ANT would open up a subculture not as 'real object', but an object designed to shape human action and influence order of non-human actions. By studying a subculture, we see how actors mediate human relations and impact our ethics, or sexuality, or aesthetic judgment, or political communication.
For a researcher this means that while describing reality of a subculture, researcher equally treats human actors within the separate group and non-human actors that may include:
rocker's motorcycle or black leather jacket as rebellious message to 'ordinary citizen' (the rocker subculture)
syringe with 'chemical instance' as well as the experience of chemically induced happiness (the injection drug users' subculture)
discount coupon and buying as a way to personal value (in the subculture of addicted discount buyers)
the Leica camera with black & white film (the film-photographers subculture)
This way, the real world and research text come together, get one voice. This one voice denies:
hegemonic/mainstream – subdued/sub-status
norm – abnormality
power of consumerism – subcultural resistance
accultured behavior – deviant behavior
together (mainstream society) – separated (subculture)
It is up to researcher to decide, how thick will the description be. So this research design would need to respond:
Will it include actors of one subculture, or of several subcultures, or of a subculture and a mainstream, or a subculture, a counterculture, and a mainstream?
By turning modern academic 'hierarchy of objects' into topological field, what shall be in center, what stays on margins, and why?
Does your research respect reality as multitude and divisions, or it produces and imposes 'full picture'?
So ANT-based research of a subculture has to
mind the researcher, his/her method, and his/her language
treat the object of study as a network of human and non-human co-actors
list actors in the network of your research by treating them as a collective of co-existence where researcher is included
chose the depth of research description.
World is a great place for scholarly inquiry. So let's research it, not our concepts and the traps produced by them.
Bibliography:
Blok, Anders, and Torben Elgaard Jensen. Bruno Latour: Hybrid thoughts in a hybrid world. Routledge, 2011.
Covey, Herbert C. Crips and Bloods: A Guide to an American Subculture: A Guide to an American Subculture. ABC-CLIO, 2015.
Hebdige, Dick. Subculture: The meaning of style. Routedge, 1979.
Huq, Rupa. Beyond subculture: Pop, youth and identity in a postcolonial world. Routledge, 2007.
Jenks, Chris. Subculture: The fragmentation of the social. Sage, 2004.
Latour, Bruno. «On recalling ANT.» The sociological review 47.1_suppl (1999): 15-25.
Tresch, John. «Another turn after ANT: An interview with Bruno Latour.» Social Studies of Science 43.2 (2013): 302-313.