Dr. Oleg Maltsev, academician of the European Academy of Sciences of Ukraine, Founder and Head of the "Expeditionary Corps."
There is a plurality of views and interpretations regarding such a notion as a 'subculture' in the academic community. Sociologists, historians, psychologists, anthropologists, and philosophers have studied subcultures as have marketing specialists and business consultants too, due to the position of subcultures in the 21st century becoming more diffusive and widespread. This thesis report reviewed the key methodological recommendations developed by Dr. Oleg Maltsev tested in the long-term expeditionary research by the Expeditionary Corps, the Memory Institute's scientific department.  To distinguish how a subculture differs from other notions and formations (for instance, from a religious movement), the author devised ten parameters for studying subcultures. The parameters set serves to verify reasonable conclusions, such as whether the phenomenon analyzed corresponds to a subculture category through prototypological, comparative, historical, and descriptive analysis and other empirical research methods. Every object, variety, and type holds a characteristic and intrinsic system of differentiating attributes. For the first time, this system of criteria inherent to subcultures was discerned and represented as a methodological research framing. Therefore, by which standards is it possible to determine and identify a 'subculture' from other formations?
Parameter #1. Idea.
Every subculture keeps an idea. Moreover, it is always manifested in an entirely straightforward formulation. Even if there is an idea at the initial stage of the subculture's formation, but the form of its manifestation does not yet exist, the subculture's members will encapsulate the idea themselves in the simplest form. The formulation of such a statement usually requires less than 60 seconds.
To consider an example of introducing an idea to a subculture, consider the film Point Break (2015), directed by Ericson Core. The posters and the trailer's tagline already indicate a notion or slogan for the film: 'Find your breaking point.' The idea is explained initially: a legendary Japanese extremist Ono Ozaki challenged the world of extreme sports to complete eight inhumane tests. Whoever passes the eight tests achieves nirvana. The idea is obvious: to achieve nirvana. Everything beyond that is a cinematic entourage. In any subculture, the idea is vividly manifested, and it is clear to everyone. The idea is direct and short, often one single sentence.
The idea is the first distinction between subcultures and other phenomena. If we consider the hippies' idea, in the '60s and '70s in the U.S., even a ten-year-old schoolboy probably knew the message: "Make love, not war!" The idea is also expressed in various songs: "All You Need Is Love!" by The Beatles; "Give Peace A Chance" by John Lennon. 'Love is greater than war, pacifism, freedom of sex, and in general, freedom is the greatest jewel,' the hippie case features that the first pointer to distinguish a subculture is a definite idea. The concept in any subculture is always explicit. Often in a sentence, story, or legend.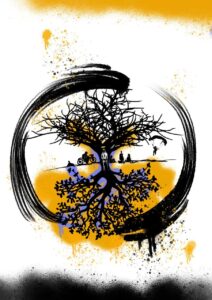 Parameter #2. The subculture has no priests.
There are no priests in a subculture, yet subcultures share a hierarchy and a hierarchy of authority. There are no 'specially educated' interpreters, teachers, or commentators; no independent caste. Generally speaking, no one in a subculture sets out to 'judge and teach' anyone; on the contrary, nobody explains or imposes things. In the subculture, practically nobody is concerned about how the subculture's central idea should be pursued (each representative has their understanding, perception, and vision). In particular, if someone is convinced that a 'biker' rides a bike exclusively on the front wheel, he is right to feel that way.
People become part of a subculture for a reason, not for being sinful or lacking sustenance in life. Instead, people stay in a subculture simply because, first, they are convinced in certain concepts, and secondly, they prefer being in a group of like-minded people. Therefore, a biker can mount his motorcycle and drive away from wherever he pleases at any point in time.
In the subculture, people, in fact, simply choose not to care. The person is responsible for him/herself. There are some opinions that 'have weight' such as those of the subculture's authorities. Their opinions distinguish authoritative standpoints. However, the main criteria for 'an opinion' in a subculture is the appropriateness and value of its meaning for all people in a subculture. If one's views are useful, they will be listened to, and if not, others may criticize them. There are practically no cases when someone advises something with no further consequences, for example, "Pray and everything will be fine!"
The core of the principle is that a viewpoint that benefits the subculture's participants renders the author of such an opinion an authority figure. If one's actions are beneficial to everyone, he also gains authority. And if there is no use, he is just the same as everyone else, and no attention is paid to such an individual. Since an idea unites people in a subculture, the idea is the axis of the group, people are gathered and joined by this idea. They all strive for something since the concept requires a way for its implementation. Opinions, conjectures, and perceptions that float around in the subculture relate to implementing the main idea in the best way possible.
In Point Break, there is the line, in a critical scene, 'Maybe I'm striving for something!' Agent Johnny Utah even declared that he was striving for Ozaki's eight to complete the eight extreme trials of Ono Ozaki. The response he received was, 'It's a legend, a myth...' A dialogue between the characters ensues; the crux is the exchanging of the individuals' viewpoints within the same subculture. However, notice that a specific eight steps or challenges are a myth, an invisible idea. Yet, the belief in passing the eight tests and how to achieve that (staying alive is essential) originates from the already known practices. Any subculture progresses from practice to theorizing. Those who have accomplished something, who have achieved the remarkable, speak and reason in the subculture. Others, even if they speak out, are rarely consulted.
For example, if a biker has toured the entire world on a motorcycle, made a round-the-world trip - it is incredibly intriguing to know the characteristics, who he has met, what mentality people have, etc. Moreover, that biker faced some other issues, either bad roads or uncooperative customs officers. Hence, the halfway conclusion is that the drive or movement is aligned from practice to theory in the subculture. The theory is only experienced, traversed, something that may be useful later—there is no theory without practice.
Parameter #3. No selection.
One of the most distinct and explicit indicators that allow separating a subculture from another is the absence of selection. Subcultures are neither "recruited" nor "elected." A person on his own without advisors determines what kind of subculture to be committed to. He chooses who he is: a non-formal, a skater, a Tolkien follower, a hippie, or somebody else.
Neither do distances, national boundaries, or even acquaintances matter. Diverse people might belong to the same subculture. Metallists, emos, bikers - they live both in New York and Kyiv, they live and do not even know each other, but they do not cease to be united around one central idea.
Parameter #4. Places.
A subculture is more characteristic of places than of buildings. For example, bikers have 'bike houses,' vogue dancers prefer 'houses,' and role-players can go from studios to conventions. It is about a "house," not a temple. Temples are not inherent in subcultures at all. How do people explain what a "biker's house" is? It is some hotel, some room or an area, a house where one can sit at a table, barbecue, sleep, unpack the bike, etc. People meet to share common ideas and pursue some simple activities in such places while having nothing to do with spiritual miracles. A biker's house is like a second home; one can draw an analogy with the notion of headquarters. Great temples or mystical sanctuaries that keep their doors open once every hundred years is not a subculture issue. Subcultures are characterized by specific places but not by temples, and this is another distinguishing characteristic.
Parameter No. 5 Symbolism and attributes.
One way or another, all subcultures, with no exception, feature some symbol. Symbolism in the subculture is the most plentiful subject. Let's consider tattoos as an example. Members of subcultures often choose symbols according to the principle, "I like it; it looks cool!" In particular, the Celts' extensive symbolic heritage, from the anthropomorphic bird, snake, and tree ornaments to cross-stitched axes, is now favored as a tattoo by members of a wide variety of subcultures, from pacifists to ravers, from bikers to Satanists. There is simply no control over what and how a subculture shapes its own identity.
There is no point in analyzing the symbolic component expressed in the appearance and entourage of a person, to look for a secret, relatable meaning. In the wilderness of the analysis, one can get lost in unraveling the tangle, such as prison tattoos mixed up with Indian or Malaysian symbols. There is no logic in this combination from one's subjective perspective; it is simply absurd. But from the standpoint of a subculture member, it is about a specific story with individually logical elements.
Subculture members may select symbols from entirely different cultures and eras. The Norman wolf can rest on the same biker's right shoulder and the Central African tiger on the left shoulder. Each subculture representative shares his image or idea, which he strives to embody. The associated symbolism and attributes are his manifestation. The logic of the subculture, therefore, substantiates its central idea. The attributes and symbols, which can be divided into two categories, reflect this idea and justification:
1) general distinctive symbols.
2) personal symbols and attributes.
For instance, suppose there is a motorcycle club—a subculture carries an idea, attributes, and even an emblem of the club; members wear them as patches on their jackets. Attributes given as an example are all standard, allowing Bike club 'A' to be distinguished from Bike club 'B.' However, bikers of the same club express the subculture's ideas in their particular way through their attributes, which are unique to them (from bracelets up to tattoos).
Each of these people has common must-have attributes, which visually confirms their affiliation with the subculture; on the other hand, each representative possesses their own attributes, expressing a particular idea from their perspective.
Parameter #6. Trend references or movements
Individual internal strands or trends characterize subculture; it is a common and acceptable practice, unlike in religion. If there were any separate 'trend' tendencies in religion, they would be instantly labeled 'heresy.'
In a subculture, even 30 movements may coexist simultaneously; subculture members are solely responsible for their own beliefs.
How do 'trend strands' arise or emerge within a subculture?
Consider a group of individuals in a subculture.
Suppose there is an authority among them who shares an idea about the subculture's central message. Some individuals support this idea and find it helpful and practical.
However, in the same fashion, a second opinion is offered by a different authority figure in another group.
Both groups of persons, and both authorities, are part of the same subculture. However, the orientation of the authoritative opinions regarding the pursuit and fulfillment of the central idea is entirely different, which defines the shaping of other 'blocks.' Within the same subculture, there can be an infinite number of such blocks.
Parameter #7. Ninety-two percent of subcultures come from a synthesis. The blend of ideas and concepts is inherent in the formation and self-determination phase of a subculture.
Consider the following example: let's assume a confident person is fascinated by Carlos Castaneda's ideas. Having read 'Tales of Power' or 'Journey to Ixtlan' (in general, not even all of Castaneda's books, but something selective), this person is inspired by 'fresh' ideas. At the same time, he enjoys riding a motorcycle no less than Don Juan's teachings. In his mind, the motorcycle and the ideas of Carlos Castaneda merge perfectly, transforming from two halves into a whole: a 'free biker making a trip to the Gorge of Power' - so the synthesis is triggered. Such a person is bound to meet like-minded people whose 'life credo' is to fly on a motorcycle into the abyss, turning into a raven and acting as a traveler in between worlds.
The subculture is shaped by the synthesis of several merged concepts. However, there are also 8% of subcultures that are not products of synthesis. For instance, a unique idea as a separate 'seed' (analogy) is 'transplanted' into new soil (like hang-gliding) without any changes, that is, this idea is not synthesized. Usually, it all begins with the quest for a sense of life, and once the real meaning is discovered, this generates a metamorphosis in one's lifestyle.
Parameter #8. The idea of death.
One' s perspective on death determines one's expectation of life. Most subcultures conceptualize the idea of death as reincarnation. Some reincarnate into birds and then again as human beings; others emerge from samsara as a new person; others break into the mysteries of reincarnation. Usually, there is a circle of reincarnation consisting of three blocks. Again, consider the example of the hippies. The hippies claimed they could even choose their parents, relying on the ideas of 'Bardo Thedol', (The Book of the Dead). So the question of "when will they die" no longer matters because you will soon return to life once you die. That is why many hippies were no strangers to drugs, promiscuity, and careless idleness. Although quite a few hippie subculture members died of overdoses or venereal diseases in the 1960s and 70s, this has not killed or made the hippie idea obsolete. Whatever happened, there would have been no war! The idea that a man could control his death was central to the hippie subculture. Hippies, of course, are indeed just an example to analyze. The concept of death in every subculture is conceptualized in one way or another.
Parameter #9. The correlation principle of concepts such as "edges" and "pump."
This explanation starts with a verifiable observation. Being able to stay in a subculture's environment, approaches and ways to implement its central idea requires money. Are you a biker? You cannot go far on enthusiasm alone. Do you like parachuting? Parachuting requires funds too. At the very least, fuel for a plane or helicopter also requires financial resources. Another parameter that makes subculture different from religion is the necessity for financial resources to continue the activities and ideas held dear. If there are "rules" within a subculture, they can be altered and even violated. Members of various subcultures devise and invent new channels or 'loopholes,' including ones that contradict the general provisions of ethics and morality, even the strict law. For instance, members of particular subcultures frequently commit crimes: they get involved in the criminal business, sell drugs and weapons. Money laundering may take place through growing cannabis and selling illegal goods, and so forth. One could compare that 'extractive' function within the subculture to a 'pump' that continually demands money, often easy money. For some, there is no way to make easy money other than through various unconventional methods in a law-abiding society. Therefore, a lot of people in subcultures make money 'somehow' differently. The financial structures of subcultures are often the most secret.
Usually, there are no ethical-moral-value restrictions like religious dogmas such as "do not kill, do not steal, and do not commit adultery" in subcultures. Conversely, there is the reasoning that it is 'possible' or 'allowed' to cross the law. The subculture often relies on many excuses as to why it is acceptable to violate social and legal norms. Nevertheless, people are frequently willing to accept these extremes.
Such predisposition in the presence of pre-justification and loopholes of the extractive function is referred to as 'edges,': the extremes to which the followers of subcultures are committed to supplying the pumping function; 'pumping' necessary resources through secret financial configuration. An excellent example of the fulfillment of the "edge-pump" is an American action film "Cutaway" (2000) directed by Guy Manos.
In conclusion, it should be noted: no other institution in the world has a scope of excuses that would equal to that of a subculture. A whole system of excuses is generated in the subculture as to why the "extreme edges" are acceptable and essential; the reason for this, or the entire justification was mentioned previously, is an easy money issue. It is no secret that many hippies sold drugs; there is no way they would work for a "rotten government." Rob and commit violence? No way. That left the only possibility for hippies: to sell dope.
Naturally, other subcultures will have different scenarios: some sell motorcycles, others compose music. However, these "secular" and socially acceptable activities are not always sufficient for most people.
Parameter #10. The model.
The final parameter in the exhaustive list of attributes is the subculture model, which allows for differentiating a subculture from any formation in all cases. Any subculture, no matter when it has originated, invariably could be compared to a tree.
The subculture model is a 'tree' with roots, trunk, branches, etc. The "tree" grows with its crown downward: its roots are at the top, and the leaves are at the bottom. This inverted tree model reflects the structure's integrity and the reasons for developing the 'subculture' in the best way.
According to the model of the 'subculture phenomenon' and its structure, it might be concluded, that the crown of the tree represents the subculture; the roots are its origins; a 'trunk' connects the subculture and its origins. By analogy, people are the 'trunk' that holds together the subculture and its roots.
Once again, coming back to the plot of Point Break. The roots of the subculture known from Ono Ozaki 'grow' from Zen Buddhism. "Extremist" Ozaki is already outside the subculture since he no longer lives. He is the 'trunk' that bridges the subculture and its source, whereas the subculture is about people trying to accomplish Ozaki's Eight Trials.
Like an apple in the shadows, in the subculture tree's crown lurks a specific radical link headed by Bodhi. Because of him, Ozaki's ideas have been taken to an extreme and radical level. However, this revolutionary part does not relate only to intense sports subculture; as any subculture is arranged in this way.
The tree model allows for exploring a subculture, uncovering its origins, observing those unrevealed characteristics and singularities of its origins, which even the subculture's representatives themselves do not always recognize. The tree also has several roots, since more often than not, in 92% of cases, synthesis as a method of subculture formation is what the researcher is dealing with. The core of the subculture represents people who
A) have accomplished the synthesis of ideas and life-worthy meanings in a life-time and
B) managed to convey this practice to others. Usually, such authorities within the subculture remain as heroes, legends, and fine examples.
Considering approaches to subculture as a global category, ten parameters that distinguish a subculture from any other phenomenon have been identified. Starting from the central idea, which is the core, one may research the system's fundamental mechanism, manifested as an inverted tree model. Its roots are the origins of the subculture, trunk - people, authorities, and heroes who have synthesized or introduced the subculture ideas. The crown is a subculture ultimately shaped in its completeness, dynamic, and diverse, both explicitly and implicitly.