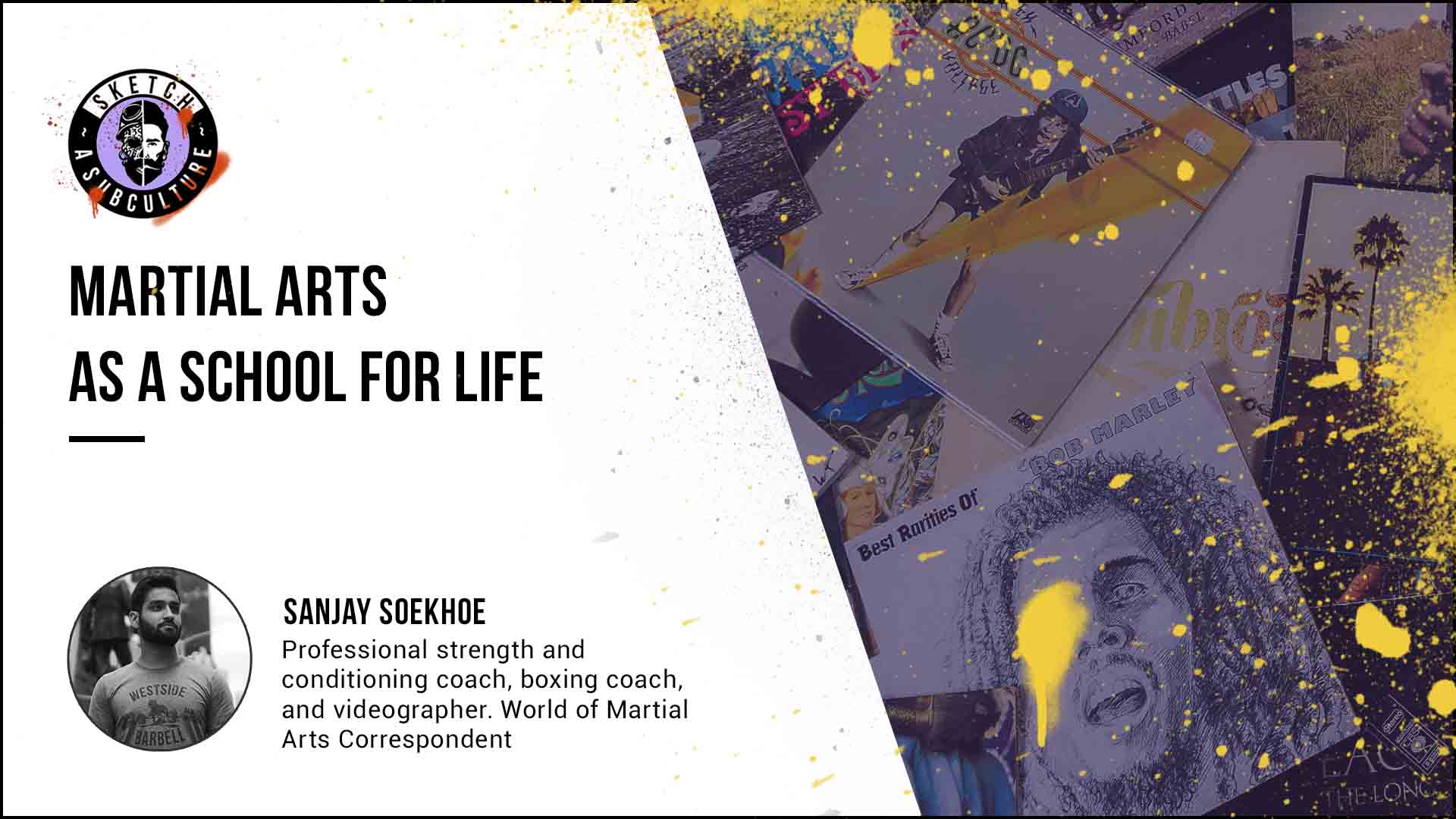 Sanjay Soekhoe – professional strength and conditioning coach, boxing coach, and videographer.
Intro
The term "martial arts" finds its root in the Latin language and means "arts of Mars", referring to the Roman God of War. The depiction of fights, however, dates to the far back of human history. War stories can be found in the Indian Mahabharata and Egyptian art, yet, one stands out the most among the others. The story of Bodhidharma is probably the world's most popular story on the history of martial arts. The story goes something like this. The Indian monk Bodhidharma made his way to the Shaolin Temple in Dengfeng, China. He noticed that the local monks were not in good physical condition and taught them several exercises that the monks continue to develop to this day. Years after Bodhidharma, the world was introduced to another man who continues to influence the world of martial arts today.
Bruce Lee's influence
In the years prior to Bruce Lee, the stereotypical Chinese actor was either quiet, smart, or overly comedic. Sometimes Hollywood even made non-Asians look Asian. That all changed when one man entered the world of cinema in the USA in 1973. When Lee passed away in 1973, his movie "Enter the Dragon" made the world look at the Chinese from a different perspective. It was the first movie starring an Asian superhero. Suddenly, everyone wanted to be like an Asian actor, and everyone wanted to be Bruce Lee. Non-Asians wanted to be like the Asian.
The movie caused an increase in interest in martial arts movies. The Western world got inspired to train and take martial arts classes. Lee was proven to be right in saying that movies are a better way to reach people in the West than books can.
Why martial arts?
For decades, the most popular people on the planet have been martial artists. People like Roberto Duran, Bruce Lee, Muhammad Ali, Mike Tyson, and Floyd Mayweather Jr., were and still are heroes for many people around the world. In the 21st century, the world of martial arts is more popular than ever. Martial arts are more accessible than ever. With the rise of MMA, it is difficult not to find a martial arts school in a given city. What is it that attracts people to art that refers to the Roman God of war? Do all the participants have a destructive nature? What happens when someone wears their Gi or lace up their boxing gloves? Why do martial artists say that martial arts are a way of life and not just a leisure activity?
Step into any good martial arts school, and you will hear the coach say that it is prohibited to use what you learn on the street, that the best fight is no fight at all. Even though people may come in to mindlessly fight someone. They are often quick enough to learn that fighting may be many things, but being mindless is not one of them. Fighting a skilled martial arts takes (improvised) strategy, setting up an attack, luring the opponent in, reading the opponent's move, dictating the pace, and many other things. That is why martial arts may as much be a mental activity as it is a physical activity. A lot of coaches even say that it is more mental than physical. What does someone gain by practicing martial arts other than inflicting pain on another human being?
Discipline
The moment someone joins a martial arts gym, he or she is part of a new system. A system that is governed by the head coach or sensei. This sensei plays a crucial role in dictating what kind of behavior the new member displays. Essentially, the sensei has a dominant role in shaping the training environment for all members.
The new member joins this environment and thereby accepts all rules by which every member abides. Some of these rules are uncomplicated: class starts at this time, greet your superiors, etc. Some of these rules can be complicated, always end the training with 100 push-ups, or do something worth remembering.
Next to the above rules, the new member learns to listen, to be objective to his own performance, to respect others and himself, to have a positive mental state, and a lot of other attributes. As one can imagine, these attributes are very valuable, not only in martial arts but also if someone wants to have respectable results in other fields.
Another valuable aspect of discipline is the ability to set goals. That not only helps give direction to your training but aids in staying disciplined to your craft. It teaches you that you are in control of what you can or can not do.
It takes a certain mental effort to give up on a Saturday night out to recover from a training session or get up early to train. Regular training helps teach the ability to improve control over emotions. It also teaches you long-term strategy. A martial artist must have a plan to achieve his or her goal. That requires the martial artist to see the goal and see the necessary steps to that goal.
Adrenaline
Most modern humans live a life full of precaution, afraid of the unexpected to happen or get their ego disturbed. It is this lifestyle that our new gym member wants to deviate from. As author Nassim Taleb states: 'Things can gain from disorder.' The end product of competitive martial arts is a prime example of a disorder. To fight against a trained adversary, someone who wants to knock you out, get you in a chokehold, or slam you against the floor is something most of the population avoids doing their entire life.
But, it is exactly this life or death situation that can make someone feel alive. The adrenaline rush generated by opposing your opponent is difficult to feel in an average lifestyle. There are numerous stories of fighters that get injured during the fight but only notice the injury when the fight is over. The author of this article has a first-hand experience of this happening.
Since the modern lifestyle revolves more around digital experiences, there seems to be an ever-increasing trend to search for real experiences. There comes a point where people feel like something is missing. Of course, we cannot forget that due to the accessibility of events and having a martial arts gym nearby people have gravitated towards martial arts.
Perseverance
A common phrase in the athletic community is: 'leaving it all on the field.', meaning to perform to his or her maximum capacity, i.e. maximal effort. No matter what place you are in, hard work always receives certain respect. So too in the world of martial arts.
The only way to improve in any martial arts is to train and get first-hand experiences. This requires perseverance. To get good, the new member has to show up and train, practicing the same routines over and over until every action becomes second nature. The amount of work put in to attain all these skills is substantial. It takes thousands of hours of training to get good and the only way to master those skills is through your blood, sweat, and tears. This coincides with the following point.
Limit
It is a given that in the process of achieving a goal, obstacles will arise. In the world of martial arts, there are several. Injuries can set you back weeks, months, or even years, but in the end, it is up to the practitioner to continue or quit. Stagnation in training is one that occurs often. The practitioner does not see a noticeable improvement in his or her performance. This can cause self-doubt and can be the start of quitting the pursuit of the previous set goal.
Another devastating obstacle is losing in a competition. It takes time to set in, but once someone has lost a fight he or she will sooner or later realize that years of hard work went down the drain. The acquired skill set was not good enough. Again self-doubt can kick in, making the practitioner question his or her skill set and ability to win at all.
It is these obstacles that make you look in the mirror and ask yourself if you really want to continue this plan. You can only find what you are made of if you face these challenges head-on. Again, we see that Nassim Taleb's quote is also true in this situation.
Conclusion
If you take a closer look at all of these elements, you see that every one of them can be used in daily life outside of martial arts. Whether it is your career or your personal life, each of these skills has its value. Did Bodhidharma think that through martial arts one would learn these skills, who knows? What we do know is that with the growing popularity of martial arts, many people are learning valuable skills. Let us just hope that in 10 years people are still making their way to the dojo and not put on a virtual reality headset to participate in martial arts.